Teaser Tuesdays is a weekly bookish meme, hosted by MizB of Should Be Reading. Anyone can play along! Just do the following:
Grab your current read
Open to a random page
Share two (2) "teaser" sentences from somewhere on that page
BE CAREFUL NOT TO INCLUDE SPOILERS! (make sure that what you share doesn't give too much away! You don't want to ruin the book for others!)
Share the title & author, too, so that other TT participants can add the book to their TBR Lists if they like your teasers!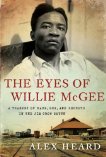 The Eyes of Willie McGee by Alex Heard
"Time is rapidly running out for Willie McGee," said one of the broadcasters, a Mississippi radio veteran named Granville Walters.  "…[T]hey are opening the truck, getting it all set, ready to turn it on, so that the juice will be funneled up through these cables…to the chair."
Page 9
Summary from Good Reads – A gripping saga of race and retribution in the Deep South and a story whose haunting details echo the themes of To Kill a Mockingbird
In 1945, Willie McGee, a young African-American man from Laurel, Mississippi, was sentenced to death for allegedly raping Willette Hawkins, a white housewife. At first, McGee's case was barely noticed, covered only in hostile Mississippi newspapers and far-left publications such as the Daily Worker. Then Bella Abzug, a young New York labor lawyer, was hired by the Civil Rights Congress—an aggressive civil rights organization with ties to the Communist Party of the United States—to oversee McGee's defense. Together with William Patterson, the son of a slave and a devout believer in the need for revolutionary change, Abzug and a group of white Mississippi lawyers risked their lives to plead McGee's case. After years of court battles, McGee's supporters flooded President Harry S. Truman and the U.S. Supreme Court with clemency pleas, and famous Americans—including William Faulkner, Albert Einstein, Jessica Mitford, Paul Robeson, Norman Mailer, and Josephine Baker—spoke out on McGee's behalf.
By the time the case ended in 1951 with McGee's public execution in Mississippi's infamous traveling electric chair, "Free Willie McGee" had become a rallying cry among civil rights activists, progressives, leftists, and Communist Party members. Their movement had succeeded in convincing millions of people worldwide that McGee had been framed and that the real story involved a consensual love affair between him and Mrs. Hawkins—one that she had instigated and controlled. As Heard discovered, this controversial theory is a doorway to a tangle of secrets that spawned a legacy of confusion, misinformation, and pain that still resonates today. The mysteries surrounding McGee's case live on in this provocative tale of justice in the Deep South.
Based on exhaustive documentary research—court transcripts, newspaper reports, archived papers, letters, FBI documents, and the recollections of family members on both sides—Mississippi native Alex Heard tells a moving and unforgettable story that evokes the bitter conflicts between black and white, North and South, in America.
Good Reads – http://www.goodreads.com/book/show/8065993-the-eyes-of-willie-mcgee
Related posts:
Teaser Tuesdays – 11-24-2009 Teaser Tuesdays is a weekly bookish meme, hosted by MizB...
Teaser Tuesdays – 02-16-2010 Teaser Tuesdays is a weekly bookish meme, hosted by MizB...
Teaser Tuesday Teaser Tuesdays is a weekly bookish meme, hosted by MizB...
Related posts brought to you by Yet Another Related Posts Plugin.
3 Responses to "Teaser Tuesday"